Elyora (2012)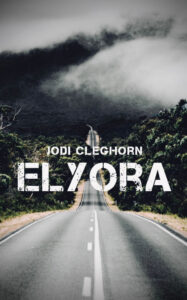 When Jo, Hal and Benny arrive in Elyora the absence of takeaway coffee is the least of their problems. At each other's throats and without transportation, phone service or somewhere to stay, they accept the hospitality of the enigmatic Lazarus at the original Elyora homestead.
As day turns to night, the sanctuary of the rambling house becomes a terrifying alternate reality of memories peeling back onto themselves to expose secrets and paranoia dating back to 1942.
To escape Elyora and return to 2012, Jo must remember who she is and find Benny and Hal before they succumb to  the same fate as those who came before them.
Novella, first published as Elyora by Review of Australian Fiction (2012)
Published digitally as River of Bones by Endeavour Press (2013)
For digital re-release as Elyora in 2023
Short-listed Aurealias Awards, short horror 2012
Amazon (Aus) #1 (Horror) & #13 (Bestsellers)
---
The Starling Requiem (2015)
Anikó has a new life as an author, supported for a year by a meager grant. By day, she writes the novel the Government commissioned. By night, she writes a novel the Government would never endorse.
To stave off loneliness and hunger, she joins a study mapping the neural pathways of narratives, and it is there, in the Science Partition, she meets the enigmatic and paranoid E. When E goes missing, Anikó is forced to walk the liminal space between her old life and new to find him.
The search unearths cutting-edge, pre-revolution technology that promises both resurrection and revolt in the real and imagined worlds.
Novella, self-published in 2012.
For digital re-release in 2023
Short-listed Aurealias Awards, short science fiction 2018
---
Postmarked Piper's Reach (2019)
"To send a letter is a good way to go somewhere without moving anything but your heart." Phyllis Theroux
In December 1992, Ella-Louise Wilson boarded the Greyhound Coach for Sydney leaving behind the small coastal town of Piper's Reach and her best friend and soulmate, Jude Smith.
After twenty years of silence, a letter arrives at Piper's Reach reopening wounds that never really healed.
When the past reaches into the future, is it worth risking a second chance?
Web serial published April 2012 –  June 2013
Novel, published by Vine Leaves Press (2019-2023)
Currently out of print, but if you'd like a digital copy, email me.
---
Her First Reality, Darkness (2019)

Sylvie wants her freedom, but The Deme is forever.
In a world where natural birth is a violation of The Biocratic Mandate and midwives are considered terrorists, Sylvie's life is a deadly game of cat-and-mouse controlled by The Deme, an underground counter-movement. When a powerful Technocrat offers her a once-in-a-lifetime deal for safe passage off the island in exchange for her birthing skills, she readily agree. But the fall-out from her last illegal birth with The Deme jeopardises the well-organised plans.
Suddenly beyond the control of both The City and The Deme, Sylvie finds herself thrust into a precarious new self-determination among those who have outlived their reproductive worth. If she's to live long enough to rendezvous with her liberators, she must navigate the dark realities at the heart of the notorious The Dead Zone, emerging to destroy everything she thought she knew.
Her First Reality, Darkness is a cross-genre, reproductive dystopia with a literary flourish. Fast-paced with a feminist bent, this provocative novella is the first in The Birthpunk Constellation octet of interconnected stories.
First published by The JAR Writers' Collective (2019)
---
What I Left to Forget (WIP)
Working undercover in Melbourne's live-music scene brings Ella-Louise Wilson one step closer to the hallowed Drug Squad. But crossing paths with grunge heroes Soul Monkey Memento resurrects a life she surrendered after her mother's fatal overdose. When an oversight puts her on the wrong foot with the task force boss, she adopts her alias, Charlotte Mackay, and becomes the band's photographer.
Returning to hometown Melbourne to find a new sound, Jakob de Brito is steeled for the past catching with him. What he doesn't expect is Charlotte Mackay and her quiet intensity. Through her lens he starts to consider who he he might be, with and without his band.
Police work and band life collide during the investigation of a potentially violent fan. Maintaining a double life falters when her relationship with Jakob ignites then intensities. When he hears her sing for the first time, everything she ever wanted might finally be within her reach until unwanted press brings the past to their doorstep, putting more on the line than their careers.
Can they build a shared future despite the lies and secrets or will they pay the ultimate price for past mistakes?