"Working with me is like having therapy with a witch, only this is not therapy and I am not that kind of witch."

I am …
* a story teller
* a messenger
* an oracle
* a perception shifter
* an agent for creative unfolding
* a card-slinger who incites 
catharsis and catalyst
I bring gentle but powerful change; opening doors out of impossible places.
Story
Story forms the foundation of my practice as a tarot reader. When I was called to the cards in 2016, I only knew how to read for myself.
So I leaned into what I  knew as a writer and editor: how to reach into the heart of a story to see how it worked, and then decide if and how it could work more effectively.
In this way, personal narrative became the foundation of all my client readings and how I conceive of tarot as a tool of self discovery, healing and personal revolution.
I served a 20 client apprenticeship across 2016 and 2017 to see if I was able to read for others. In this way, I developed my own style of reading which focuses on deconstructing old personal narratives and helping clients to author new ones.
My client work is orientated in the present and the past, to help clients better understand the how-why axis of themselves and their circumstances. Understanding this, gives them the freedom and space to conceive a future of their own design.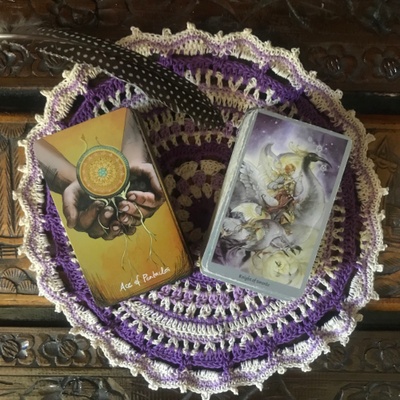 Tarot is  the melting pot where writing and coaching meet my intuitive magick to provide potent insights, practical reframes and powerful next steps for my clients.
"Thank you so much! I loved it, such a beautiful, powerful, insightful and thought-provoking reading, yet one that also sat just right, as though I knew the answers but needed to be reminded of them. Thank you for being you, and for sharing your magical gifts with me."
~ Kristie, Melbourne (Australia)
Influences
My understanding of tarot is shaped by Lindsay Mack, Barbara Moore, Rachel Pollack, Jessa Crispin and more recently Jessica Dore.
For clients I read with a combination of The Shadowscapes Tarot (Barbara Moore and Stephanie Pui-Mun Law), The Light Seers Tarot (Chris-Anne Donnelly) and The Wisdom of the Oracle (Colette Baron-Reid).
I am currently using as my personal decks The Fifth Spirit Tarot (Charlie Claire Burgess), The Muse Tarot (Chris-Anne Donnelly) and The Red Seeds Oracle (Linda Hill).
Continue on to
Testimonials